Kursleitung: Ingrid Eggimann-Jonsson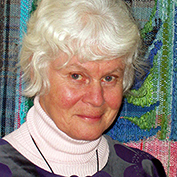 Datum/Zeit
26/04/2020
All day
Kursort
Zürcher Stalder AG
Kurskategorie
Sticken
The joint embroidery on 26 April will not take place! We will not postpone it to another date, because surely many other events will do so and one could fall into a backlog. We would like to avoid that. Peace embroidery can be done in peace at home, without hectic rush and with joy and many positive thoughts!
If you need help with embroidery stitches, you will certainly find it on the Internet. A good address is this one: https://www.needlenthread.com
We would be pleased if you send us your embroidery in October for the exhibition and wish you happy embroidery!

Embroidery for Peace
In Sweden, a World Embroidery Day for Peace was held for the first time in 2011. The idea was that embroidery
should lead to free, creative, global thoughts and ideas. They declared 30 July* to be
a working day for peace, freedom and equality.
Manifesto
Textiles reflect our world. In an embroidery you can observe the spirit of our time.
Embroidery and textiles can also point to social injustices between countries
With the help of embroidery we can change the perspective and show the necessity to
especially in the important role that textiles play in world trade and world peace.
Textiles are power, let us encourage many people through embroidery to engage in this creative
to engage in activities that lead to a better understanding between countries and people
Embroidery is a peaceful and tranquil activity. It can be traditionally derived from common
memory or drawn from sample books or freely recreated. Man
embroidery for joy, for beauty, decoration and to create identity.
Stitches can be decorative, beautiful, comforting, reporting, healing, narrative, sensual,
seditious, flattering, perfect…
People embroider out of lust, as a leisure activity, professionally, out of sheer necessity, as
liberating action. One embroiders in groups or in meditative solitude.
We want to draw attention to embroidery as a free creative action, which leads to free, creative
can lead thoughts and ideas. We from the northern, privileged part of the world want
embroidery threads link with stitches, which are embroidered by our embroidering sisters and brothers around the
world.
We want to be part of a joyful and creative peace movement.
The initiative comes from the local group Skåne Syd at the Embroidery Academy. The first world peace day
took place on 30 July 2011 in Vismarlöv. The importance of embroidery and the information about
World Embroidery Day should spread on wings all around the world!
Make 30 July* a creative day for peace, freedom and equality.
Our embroidery day is held on 26th April 2020, from 10.00 – 16.00.
For more information click here
Anmeldung